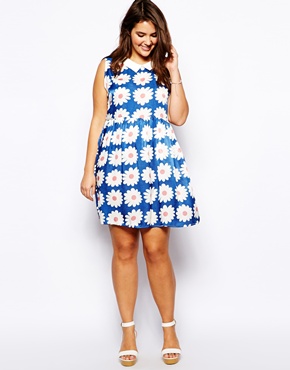 Plus Size Fashion – How To Wear Floral Prints With A Curvy Shape. Let's face, when it comes to plus size fashion many women try to stay away from prints and patterns particular floral designs. Why, because most women believe that floral patterns can add weight and make you appear larger than you actually are. While this is in fact the case, there are still ways you can wear the perfectly spring pattern without adding bulk.
While rocking floral remember to grab prints that feature large floral design. Patterns that showcase floral in a larger size usually have more solid hues in the pattern as well, allowing the design to spread out in way that is more flattering.  You can also slim your shape with floral by choosing sold backgrounds against the floral as well, hues such as black, navy, and charcoals are perfect for showcasing sophisticated florals.
Another way you can wear florals is by breaking up the print. Opt for floral only bottoms and pair it with a solid hue, or vice versa. That way your entire ensemble isn't covered in the print making it much more flattering for your curves. Look below to see some the chicest styles you can achieve with florals.
Related articles