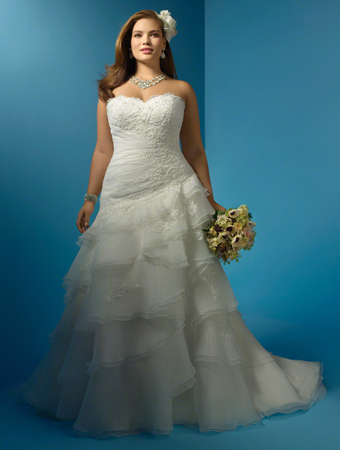 2014 Plus Size Wedding Dress Trends. Plus size bridal trends for 2014. As you plan your perfect day and arrange everything to walk down the aisle to the man of your dreams, you'll need a flawless dress to perfectly accentuate your curves.  Many of this year's trends are styles and selections which we have seen in the past, while some of course are more fresh and new.
When choosing the perfect gown be sure to select styles that help flaunt the areas your husband to be loves the most. This of course is one of the best ways to capture his attention on your your big day, even though we're pretty sure his eyes will be on your already, but it doesn't hurt to showcase his favorite features. 

Many of the hottest plus size styles this season range between a mix of strapless, beaded, and asymmetrical. Styles that are asymmetrical, wrap, as well as corsets are perfect at pulling your mid-section in, if you find you want to conceal your tummy, while mermaid styles are perfect for the ladies who want to show off a curvy bottom. Look below to see some of the hottest bridal trends in action, and good luck on finding the perfect gown for your big day.
Dresses from : Alfred Angelo
Related articles